At the Center for Nursing Equity and Excellence, we believe that every Minnesotan should have access to quality nursing care. We strive toward this goal through supporting nursing education programs in graduating highly educated and diverse nurses right here in Minnesota, and through supporting Minnesota's nurses to flourish as they care for the most vulnerable in our populations.
Your donations will contribute to the Center for Nursing Equity and Excellence's six Strategic Priorities: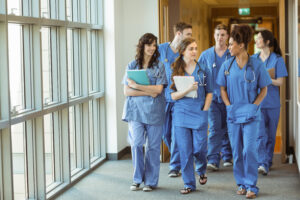 Supporting a robust Nursing Workforce Pipeline from middle school through the PhD

Equity, Diversity & Inclusion in Nursing

Re-imagining Nurse Education with Industry Partners

Growing simulation and experiential learning opportunities for nurses

Nursing student well-being and flourishing

Nurse retention, well-being and flourishing
Here are some examples of the funding priorities of the CNEE:
Career navigation support for people to learn how to become nurses, and for current nurses to advance their education.

Technological development to fill all nursing programs to their fullest no matter where the programs are located in Minnesota.

Professional development for current nurses to join in teaching our future nurses.

Collaboration support to maximize clinical learning capabilities throughout Minnesota.
Development of a statewide nurse student mentorship program to address retention of nursing students, especially first generation college students and students from traditionally underrepresented groups.
There are opportunities to contribute to specific projects or events of the CNEE. Examples of these include:
An annual conference of nurse educators and clinical practice partners to collaborate and act on solutions to build Minnesota's nursing workforce.

Development of IT solutions to address longstanding pain points in growing the nursing workforce.

Course development to provide professional growth opportunities for current nurses to become student preceptors or adjunct nurse faculty.

Small grants for nurses to develop solutions to the nursing workforce needs in Minnesota.
Thank you for considering supporting the Center for Nursing Equity and Excellence. Together, Minnesota will have excellent nursing care for all!
For more information, please contact Dr. Jennifer Eccles, PhD FAADN RN, jeccles@umn.edu, 612-624-6750.